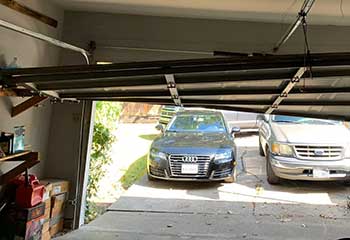 Broken Spring Replacement
Customer Issue: The door couldn't open because one of the springs was broken.
Our Solution: The first thing we did was to secure the door so that we could take down the broken springs and install new ones. We made sure the safety cables were still in good condition and didn't need replacement. After we installed new extension springs and adjusted the tension, we fine-tuned the system and made sure it was safe. We also gave Mrs. McNeil some pointers on garage door maintenance before leaving.
Tracie McNeil
- Las Vegas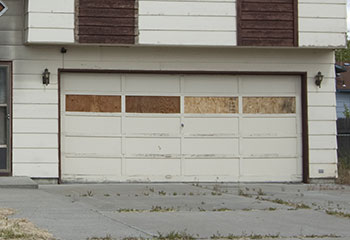 Panel Replacement
Customer Issue: The old panels were falling apart, and their glass windows were a bit too large for the wear and tear of the neighborhood.
Our Solution: As the customer wanted something better insulated and with fewer windows, a custom Aspen Series garage door panel set with built-in insulation and no glass from Raynor fit the bill. The door was also a Raynor product, so compatibility wasn't an issue.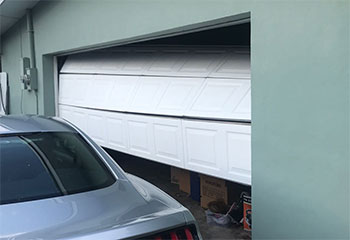 Garage Door Off Track
Customer Issue: A couple of rollers popped out of the left track, and the door got stuck halfway.
Our Solution: Our team repaired the damage to the track that caused the problem. We then lifted the door manually and eased the popped rollers back into place. We also had to remove a tangled lift cable and wind it securely back around its drum before reattaching it to the door.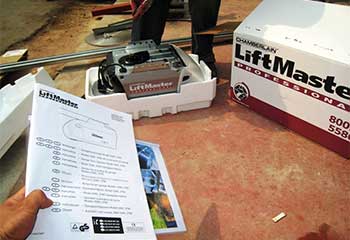 Opener Replacement
Customer Issue: Mr. Bishop's opener quit working after a lightning storm and he wanted a new unit with smartphone capability.
Our Solution: Our team suggested a new LiftMaster 8550W Belt Drive Elite Series opener. After installation, we tested the door completely before cleaning up and leaving.
Stephen Bishop
- Las Vegas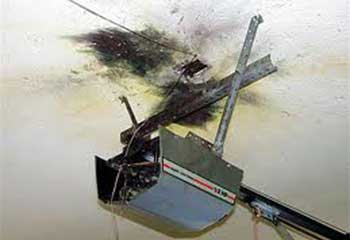 Opener Installation
Customer Issue: The customer's opener was damaged beyond repair by an electrical surge.
Our Solution: We replaced his burned up opener with a new Chamberlain B9780 Smart opener with built-in WiFi. He was extremely pleased with the ease of operation and price of his new opener.