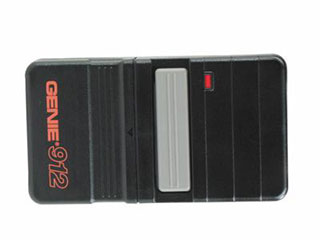 There were hardly any improvements to the security of garage door systems up until the 1990s. Even then, the early methods would usually be easily bypassed. Most intruders opt to enter your home through your garage door, as it can oftentimes be the weakest entry point to your home. As technology advances, it brought along with it multiple new upgrades and special features that can greatly improve the security of your home.
Fingerprint Access System
Nowadays there are devices that can restrict the use of your garage door only to individuals whose fingerprints are stored in the system's database. A special security code may still be required, but without the necessary prints, the code will be worthless. This type of feature doesn't necessarily require a new opener, so even if you have an older unit you may still be able to install one of these "handy" upgrades.
Rolling Code Technology
Many modern opener manufacturers have started using rolling code technology in their models. This feature makes your system change the codes your opener and its remote use to communicate each time you use them to open the door. The Genie Intellicode and the Liftmaster Security Plus are two notable examples of the application of this technology in residential garage door opener models. It's an excellent way to keep burglars from hijacking your codes.
Motion Detection Sensors
Getting these components installed can be an excellent way to scare off intruders. They can be kind of like roaches sometimes, in that they will often scatter the moment the lights turn on. Motion detection sensors will turn the lights inside your garage on the second they, well, detect motion. This can also be really convenient for you when you return home late at night.
The Simplest Method
While there are a lot of special features you can choose, the simplest and oftentimes the most effective one is simply to disconnect your opener from the power socket. This will make it impossible, including you, obviously, to use it in order to open your garage door. This can be especially beneficial when going away on vacation. Of course, you'll have to remember to plug it back in when you want to use it yourself.
Contact our team at Garage Door Repair Las Vegas for more information.