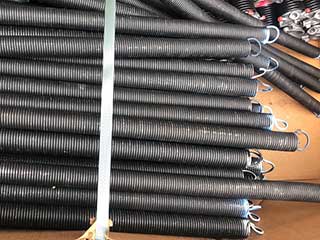 If you are looking for assistance with your garage door springs, be sure to contact our team. These components are an essential part of any automatic overhead garage door system, but due to the dangers involved in their operation, they must only be handled by professional technicians in order to avoid a lot of potential accidents.
What Do Springs Do?
These components are responsible for keeping your door properly balanced, as well as supporting its weight during its operation. Because of this, it is important to pay close attention to the condition of your springs, keeping an eye out for damages or signs of wear, so that you can call our team and have us deal with the problem before it leads to a catastrophe. Because springs are loaded with tension, when they break, they can go flying around your garage, and will seriously injure anyone that gets in their path. In fact, even adjusting them can be dangerous, and you should never try to handle them by yourself. That's what we're here for.
Installing New Springs
Let us assist you with you need to have new springs installed. We can even offer you a solution that is sturdier and far superior to normal springs. Galvanized or oil tempered springs can be excellent options for homeowners who are looking to get the most out of these crucial components. Galvanized materials receive a special coating of zinc which allows them to be able to resist rust and therefore last for much longer. Oil tempered components undergo a treatment which makes them more flexible and durable. The choice between the two will depend on your specific needs. Consult with our experts to see which type is better for you.
Replacing Old Springs
If your old springs are starting to show signs of trouble such as the spread of rust, the onset of galvanic corrosion, or stress marks such as cracks, then you should get them replaced as soon as possible to ensure that their imminent failure doesn't have any adverse effects on your door. Remember, you should never try to perform the spring replacement procedure by yourself, as it could result in a serious injury.
Our Team is Here For You
Give our experts at Garage door Repair Las Vegas a call today and speak with one of our consultants for assistance, information or advice on our various services relating to garage door springs. Whether you need to have them replaced, repaired, or maintained, we are the team for the job. Call us today.
Our team can also take care of:
Garage Door Troubleshooting Services
Belt Drive Opener Installation
Garage Door Cable Replacement
Roll Up Garage Door Services